Retrieval Practice is now a mainstay of many schools and colleges. But the research on it is constantly updating what we currently 'know'. Each study adds more context and nuance on how best to apply it. In this session, Bradley will explore the latest and greatest studies, combining seminal studies alongside those just released. This will include different types of questions, multiple choice quizzes and how best to get high quality answers from students.
Bradley Busch is a Chartered Psychologist and is one of the leading experts on how psychological research can best help people improve how they think, learn and perform. As Director of Inner Drive he has worked with hundreds of schools to help them utilise cognitive science research. This has specifically focused on memory, learning, study habits, well-being, sleep and mobile phones. He delivers staff CPD and student workshops. Outside of education, he works with Premiership and international footballers, as well as has helped members of Team GB win medals at London 2012, Rio 2016 and Tokyo 2020 Olympics. He is the co-author of the best-selling book 'The Science of Learning – 99 studies every teacher needs to know' and his next book, which has just been released is called 'Teaching & Learning Illuminated'
Hosted by Dr Steve Murray MCCT (@EduResearching) and the Chartered College of Teaching (Bristol Hub) (@CharteredColl)
Dr Steve Murray MCCT, Lead Practitioner for Data and Research at Orchard School Bristol and Trust Leader in Education for Trust in Learning Academies (TiLA). Steve has a MSc and PhD in Climate Science and has taught geography in a number of secondary schools in North Bristol. He also has experience in middle and senior leadership, with both pastoral and pedagogical responsibility. Steve now also supports TiLA in linking educational research to classroom practice, in order to enhance teacher CPD and improve students' academic progress. Follow Steve on Twitter @EduResearching.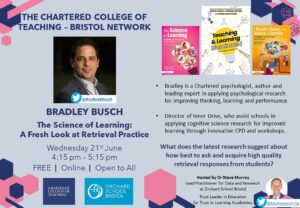 Download the flyer here